About Us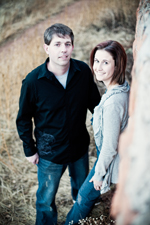 MeLissa Houdmann lives with her husband Shea in beautiful Colorado Springs, Colorado. Shea is the President and COO of GotQuestions.org, a ministry that answers people's Bible questions online.
The couple enjoys hiking throughout Colorado, driving 4x4 trails, and playing with German Shepherd.
MeLissa was raised in Iowa on a camp where her parents were the camp managers. She later attended Calvary Bible College where she played volleyball and basketball at the collegiate level. She received a degree in Christian Ministries with a concentration in Journalism from Calvary Bible College in 1999.
Following college, the couple worked for Stonecroft Ministries in Kansas City, MO. While at this international ministry, they learned many valuable skills that enabled them to start their own organization in 2002. GotQuestions.org was birthed as a hobby, but soon began receiving 20 to 30 questions per day. Now, the ministry answers hundreds of questions per day and is an official non-profit organization.